Spring School for Master's and PhD Students of Social Work in Europe 2015
The 9th annual International Spring School of Social Work was held on 14th-17th April 2015 on the premises of the VŠB–Technical University of Ostrava. Out of a total 59 participants, 37 were from universities outside the Czech Republic - from Eichstätt, Koblenz, Bremen and Landshut (Germany), Hertfordshire (UK), Kuopio (Finland), Trnava (Slovakia), Lille (France), Dornbirn (Austria), Lodz and Olsztyn (Poland).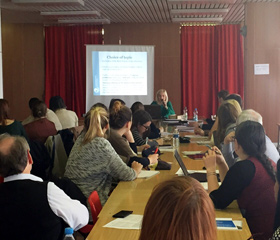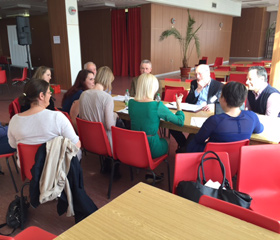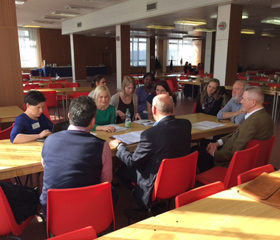 The programme was devoted to the presentation of students' papers based on their doctoral dissertations or diploma theses, discussions with teachers, group and individual consultations. The opportunity to meet and discuss with academics from various countries in an informal, friendly environment and to receive valuable feedback from them is vital for all participants in this event.
This year's Spring School was followed by lectures and a workshop held as part of the sustainability period of the project "Enlargement and Development of the Research Team at the Faculty of Social Studies, University of Ostrava" (VEDTYM), including a research afternoon with Prof. Detlef Baum from Germany entitled Social division, gentrification and socio-spatial segregation in German cities, and the methodological workshop Research in the areas of child protection and mental health – the ethics and methods for research in sensitive areas with vulnerable clients by Prof. Brian Littlechild from the University of Hertfordshire.
Lectures given by academics
Prof. Ewa Kantowicz, PL
Research on professionalization and SW education in Poland
Prof. Detlef Baum, DE
Social division, gentrification and socio-spatial segregation in German cities
Prof. Brian Littlechild, UK
Research in the areas of child protection and mental health - the ethics and methods for research in sensitive areas with vulnerable clients


Students' contributions
Barbora Gřundělová, CZ
The importance of gender competencies for professional practice in SW
Izabela Kaminska, PL
Professional identity understood as a process
Ella Pobee, UK
The use of the "self" in SW practice: social workers as recipients of social work care
Martina Závodná, CZ
School social work in the Czech Republic
Nga Onana Chantal, FR
The existence of disadvantaged areas
Klára Ganobjáková, CZ
Housing standards for people with disabilities - the case of the city of Ostrava
Sandrine Carlier, FR
Socialization of the children of asylum-seekers' families
Kateřina Glumbíková, CZ
Reintegration of single mothers living in shelters to permanent forms of housing
Vanessa Mankus, DE
Significance of diagnosis in clinical social work
Monika Ottová, Richard Palatý, Dr. Anna Krausová, CZ
Housing needs of families with children living in dormitories
Matthias Natter, DE
How are different diagnostic instruments of social support in SW applicable and useful
Blanka Fiurášková, CZ
Mediation as part of social work with families
Emilie Duvivier, FR
Unaccompanied minors in France
Klaudia Vidová, SK
Partnership in the context of physical disability
Aneta Kožušníková, CZ
The role of SW in hospice and palliative care of children in the Czech Rep. and Poland
Monika Bjelončíková, CZ
Social work and social consequences of life with HIV/AIDS
Pauline Flahaut, FR
Walt Disney, an impact on sexual identity construction
Kat Thorogood, UK
Child sexual exploitation: challenging perceptions, identifying risks and addressing need
Iain Boyd, UK
An examination of the media response to the Rotherham (UK) child abuse scandal and the recommendations made by the Jay Report
Daniel Hoerl, DE
Therapeutic climbing - a qualitative study of effects on clients
Lenka Caletková, CZ
Effective management of selected processes in social work service organizations
Updated: 15. 01. 2018