Spring School for Master's and PhD Students of Social Work in Europe 2016
The 10th annual International Spring School of Social Work was held on 12th-15th April 2016 on the premises of the VŠB-Technical University of Ostrava. Out of a total 54 participants, 37 came from universities outside the Czech Republic - from Eichstätt, Koblenz, Bremen and Landshut (Germany), Hertfordshire (UK), Kuopio (Finland), Trnava (Slovakia), Lille (France), Gandhigram (India), Dornbirn (Austria), Lodz and Olsztyn (Poland), Moscow (Russia), and Texas (USA).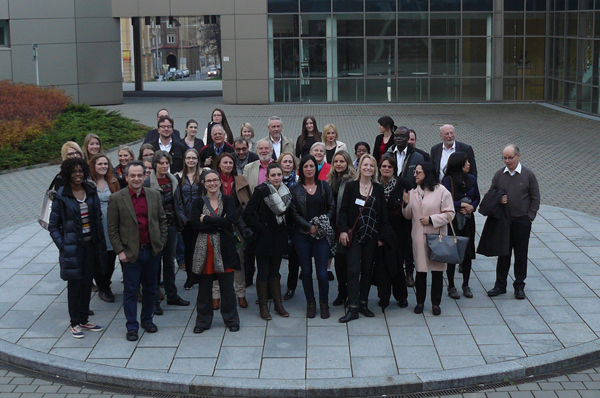 The programme was devoted to the presentation of students' papers based on their doctoral dissertations or diploma theses, discussions with teachers, group and individual consultations. The opportunity to meet and discuss with academics from various countries in an informal, friendly environment and to receive valuable feedback from them is vital for all participants in this event. The tenth anniversary of the launch of the annual Spring School was celebrated at an informal party with music and typical local cuisine, where participants had the opportunity to get to know each other. It was a pleasure to hear the singing and musical performance of Mr. Sett Montgomery from Texas.
This year's Spring School was followed by lectures and a workshop held as part of the sustainability period of the project "Enlargement and Development of the Research Team at the Faculty of Social Studies, University of Ostrava" (VEDTYM), including a research afternoon - a methodological workshop with Prof. Ewa Kantowicz from Poland and Prof. Detlef Baum from Germany, entitled "Reflection on comparative methodology in social work (social studies)".
Lectures given by academics
dr. Hilaria Soundari, India
Participatory Practices and Paradigms in Social Work Research
prof. Mariusz Granosik, PL
Social Work Research: Conversation/Discourse Analysis
dr. Arlene Montgomery, USA
Direct Clinical Social Work Practice: Assessment with a Neurobiological Lens, a "Bottom-Up" Perspective
prof. Ewa Kantowicz, PL
Some Reflection on Comparative Methodology in Social Work (Social Studies)


Students' contributions
Mr. Jabulani Mwale, UK
Privatization of child protection and potential impact on social work practice: the UK journey so far
Ms. Merve Balci, UK
Young people who suffer partner abuse
Ms. Joy Aghogho Rützler, AT
Challenges encountered in the labour market by graduates from non-EU countries after naturalisation as Austrian
Ms. Akiko Kosaka, Japan/FI
How the ideas of social welfare have influenced the shaping of the ideas of social pedagogy in modern Japan
Ms. Julie Denry, FR
Fail to keep up school and reconnaissance
Ms. Justyna Cherchowska, PL
The role of elderly people's social activities in creating and improving their everyday life
Ms. Elodie Chevalier, FR
Words of teenagers placed in institutions - a comparative approach in Europe
Ms. Roques Magali, FR
Homeless seniors
Ms. Šárka Dořičáková, CZ
Connection quality of social services for elderly people provided with registration and without registration
Mr. Stijn Croes, CZ/Belgium
Towards a social European Union
Ms. Markéta Janíková, CZ
The living conditions and strategies of socially excluded persons
Ms. Sabina Maňková, CZ
Children's views of family group conferences
Ms. Ivana Kowaliková, CZ
Possibilities and limits of social work with seniors who live alone: the gender perspective
Ms. Adéla Dvořáková, CZ
Informalization of society: implications for social work
Ms. Alena Vaňharová, CZ
Assessment of the reasons for removing a child from the family
Mr. Tomáš Waloszek, CZ
Family policy in the context of new social risks
Ms. Maria Solovyeva, Russia
The development of social entrepreneurship in RSSU
Updated: 15. 01. 2018